WorcesterThen.com: 1878
Below is a portion of the annual report of the Superintendant of public schools in Worcester in 1878, Mr. Albert P. Marble, in which he presented data on the occupations and incomes of the parents of Worcester High pupils of that year, and drew some interesting conclusions regarding the significance of what he saw in the data.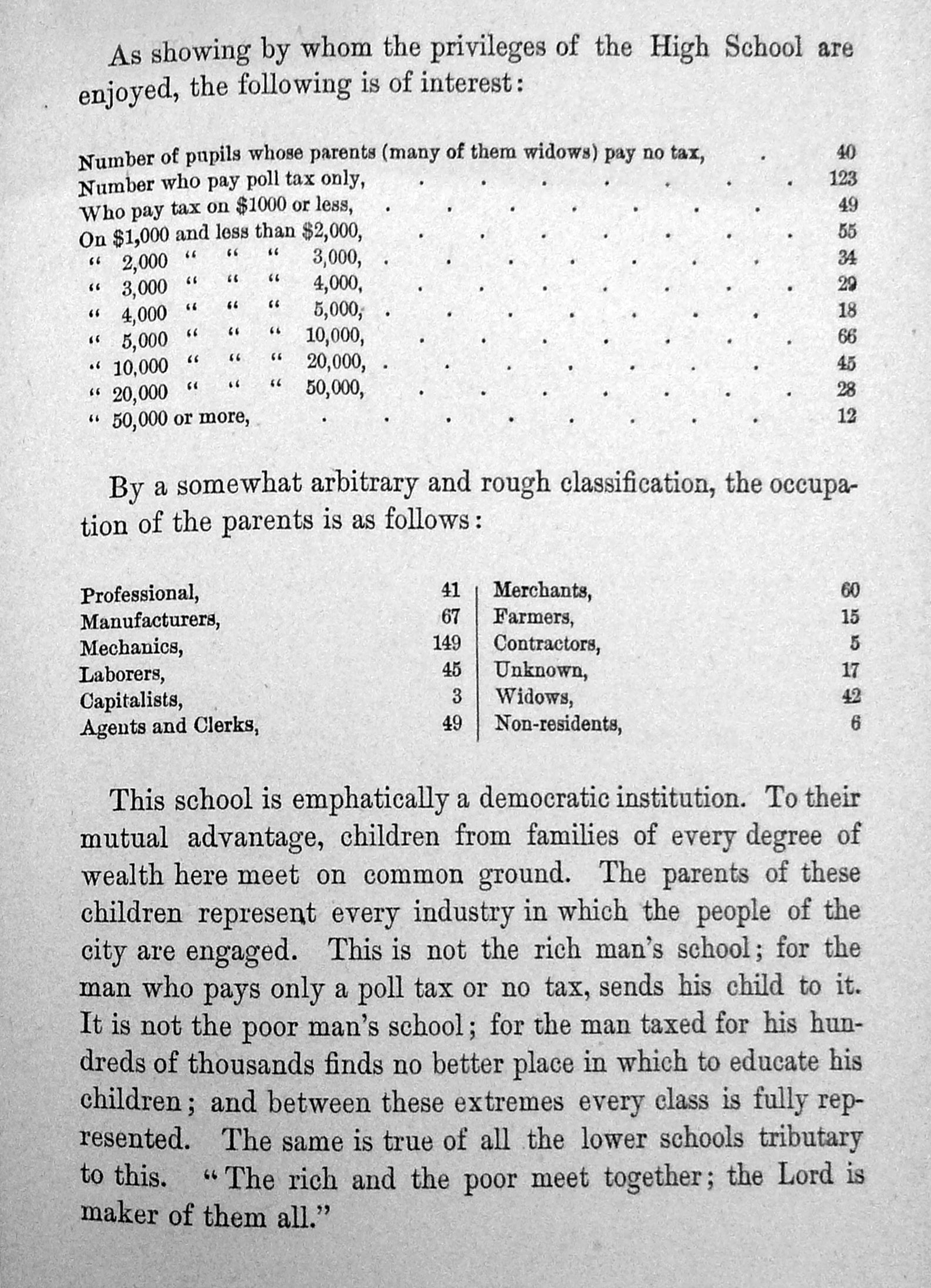 Source: City Documents no. 33, 1878
In the results of his survey he perceived a broad array of occupations of the parents of the pupils (mainly their fathers), and a wide spread of family incomes, suggesting to him that the school was "emphatically a democratic institution." Thus, he saw the school having a democratizing effect, and that, in his view, was a good thing.
Whether, or to what extent, he was right seems less important now than the fact that as a major figure in the city, its Superintendant of Schools, he thought it was true and good. 
Also of interest to some is that he left us two data sets related to the social and economic composition of the city, by way of parents of high schoolers, of a kind that is rare and hard to find. No doubt the results are biased upward on the social scale, since high school students in a time when so few youth attended, would naturally be skewed toward the more affluent families. But the superintendant's point was about the broadness of the occupational and income scales, and the consequent mixing of varying backgrounds, and that seems worth noting, despite the skewed pattern of the data. 
A little home-baked analysis yielded a median income of about $1,680, with 42.5 percent coming from families earning less than $1,000, and 17% from families with incomes over $10,000.  Note also the number of "rich kids" - the 2.4 percent from families earning over $50,000 per year. The families earning over $20,000 could safely be called "wealthy," and the 47 percent between $3,000 and $10,000 could be considered "affluent."