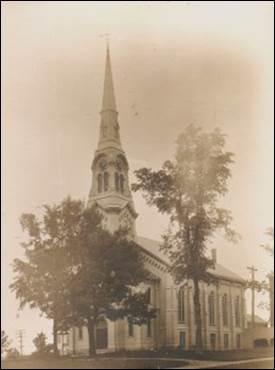 Congregational Church of Leicester,
1867-1900, from the church's website: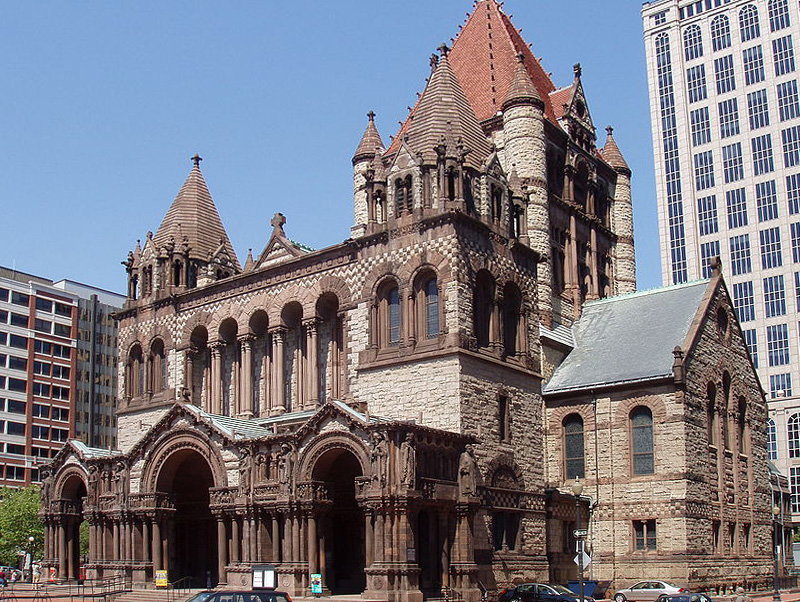 Trinity Congregational Church in Boston
Focusing their efforts in this area, they won a number of building contracts in Worcester, including the First Universalist Church at 62 Pleasant Street, and the new high school on Maple Street (completed in 1872, no longer standing).
Over the next few years their local accomplishments included the Crompton block on Mechanic Street, the All Saints church, and others. 
The firm became known for its ability to handle construction jobs of large size and complexity, and especially for its competence in stonework. Norcross Brothers became closely associated with Henry Hobson Richardson, one of the nation's leading architects, known among other things for his large public  buildings of stone, usually in what came to be known as the "Richardsonian Romanesque" style.
   From Worcester's Best *: 
"It is thought that the firm and its ingenuity in masonry construction was partially responsible for  the development of Richardson's unique Romanesque style, and indirectly for the popularity which heavy masonry achieved during the late nineteenth century."   ( p.147)
* Elliot B. Knowlton and Sandra Gibson-Quigley (eds.) Worcester's Best: A  Guide to the City's Architectural Heritage, 2nd ed., 1996 by Preservation Worcester
Over the half century or so of the firm's highly successful operations, the Norcross Brothers built the Trinity Church in Boston, the New York Public Library, the Rhode Island State House, South Station in Boston, Symphony Hall in Boston, the Marshall-Field Building in Chicago, and many other large buildings, numbering in the hundreds. In 1902-03 they renovated the White House during the administration of Theodore Roosevelt, and they built the Executive Office Building in Washington.
In Worcester they constructed City Hall; the State Mutual, Slater, and Burnside office buildings; Worcester High School on Maple Street; the First Universalist and All Saints churches; the Worcester Art Museum (the inner part, now nearly surrounded by additions); the Royal Worcester Corset Company; and others.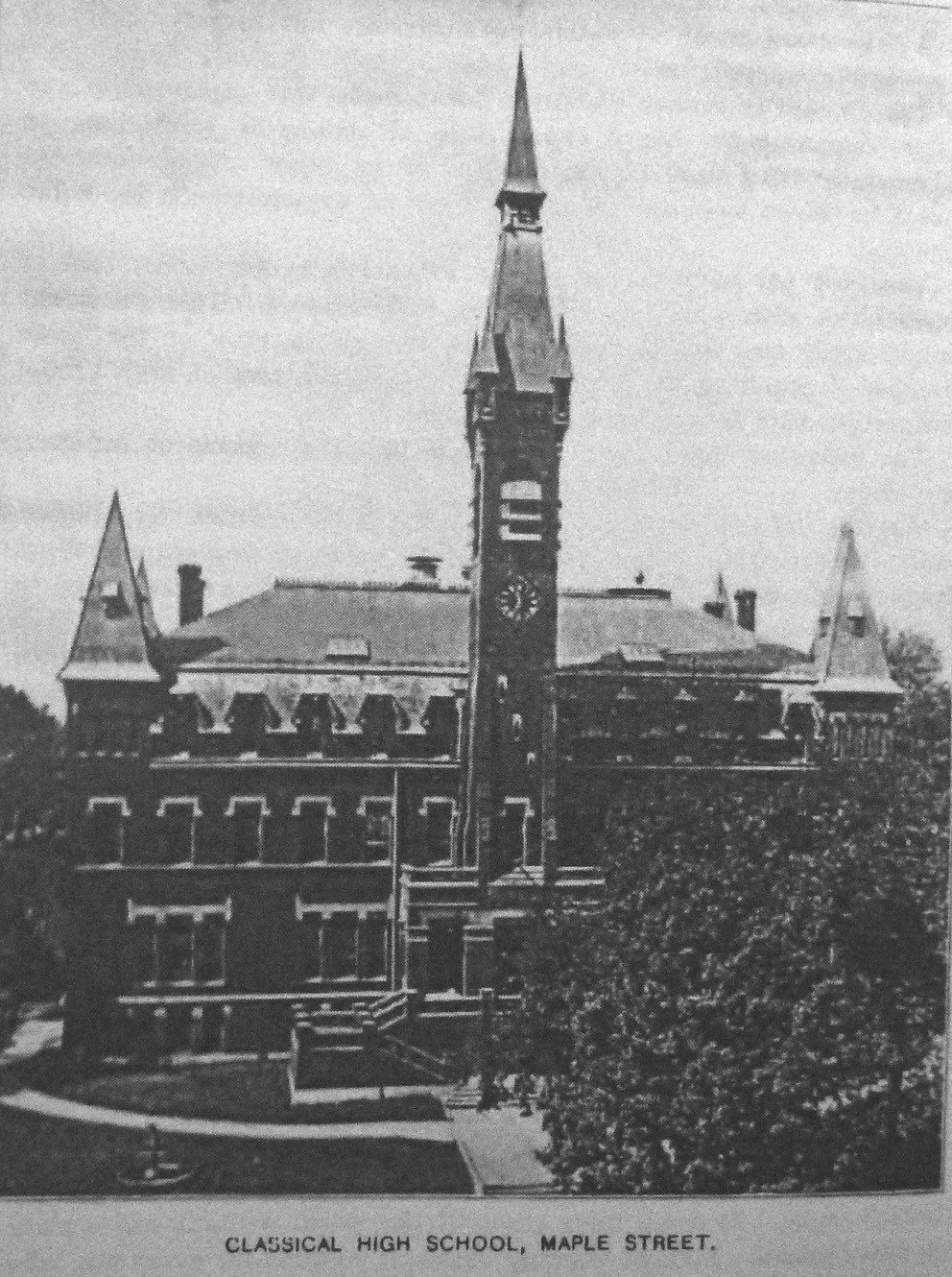 Worcester Classical High School,
Maple Terrace, completed 1872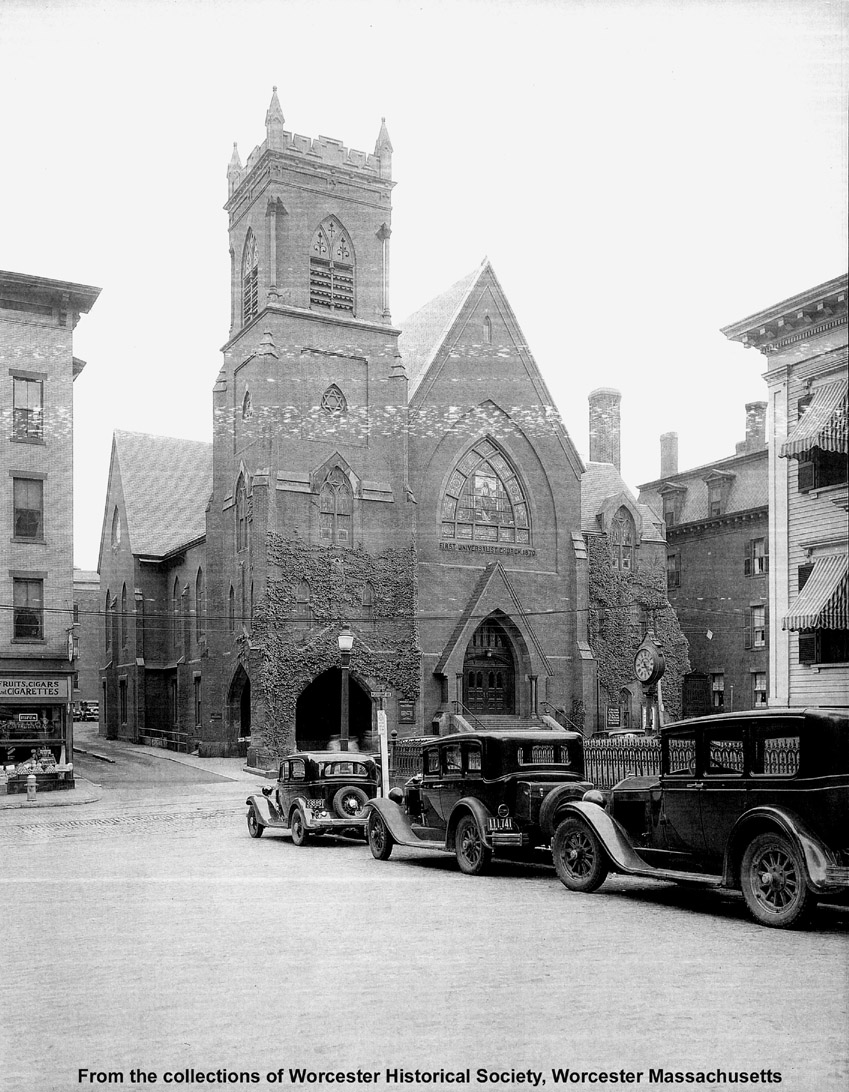 First Universalist Church, Worcester, 1871
(From the collections of the Worcester Historical Museum, Worcester)